Our Vision For Tubbenden
The following is the vision of staff and Governors at Tubbenden for its future. We believe that much of this describes its present, too!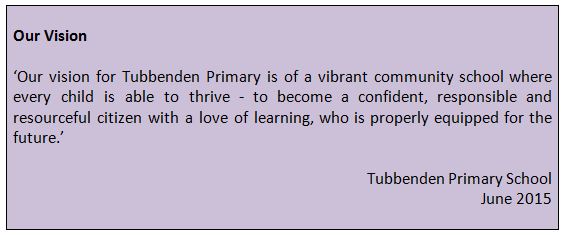 This can be further distilled to our school motto, which is:
'Happiness and Success'
We have also further expanded our vision:
For the children of Tubbenden to:

Be happy and successful;
Enjoy their Primary School years;
Achieve excellence in core subjects;
Be taught by staff who are consistently excellent (by our definition and self-evaluation);
Receive a high quality primary education which prepares them well for the challenges that lie ahead;
Understand that their own actions have an impact on themselves, each other, the world around them and their community.
Be equipped with a strong set of values to ensure their impact is positive.
For the school to be:

Happy and successful;
Warm, nurturing, safe, protective and inclusive;
Lively, innovative and adaptable;
Engaged with, and highly regarded within, the community;
Attracting the best staff;
Sharing its good practice with others – locally, nationally and internationally;
Ecologically friendly - preparing the children for a lifetime of sustainable living through its teaching, fabric and day-to-day practices.
To have a curriculum that:

Is stimulating, engaging and fun;
Promotes high quality learning;
Is driven by creativity, wider learning and building successful learning behaviours which will last a lifetime;
Enables pupils to achieve success, which is defined as the best of which they are capable;
Is supported effectively by ICT.

In Tubbenden, sustainable digital technology will:

ensure children are prepared for the future;
be fully integrated and enhance learning experiences;
inspire the school community.
To develop a team of staff at Tubbenden who are:

Happy and Successful
Aspirational for themselves, the children and the school;
Positive in their demeanour and their actions;
Passionate about learning, the school and doing their best for the children;
Exigent – understanding that the children's time in education is precious;
Dedicated to the children and the school;
Working as a team;
Committed to professional and personal development;
Proud of their own and the team's achievements